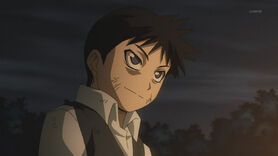 Fred Kira is son of mother Kira that prayed to the first Kira's death. And ally with Yasser.
Apperance
Black blonde hair,dark blue eyes,black eyebrows and white skin. white shirt and grey vest,black short jean and black boots.
Personality
He was rather gentle and polite talking,but when becoming Kira,he becames hungry and evil.
History
Mother raised him even when he grows up. Yasser was the one who founjd him and exapins him about Fred want becomes Kira too.
Ad blocker interference detected!
Wikia is a free-to-use site that makes money from advertising. We have a modified experience for viewers using ad blockers

Wikia is not accessible if you've made further modifications. Remove the custom ad blocker rule(s) and the page will load as expected.